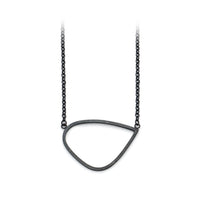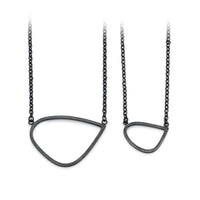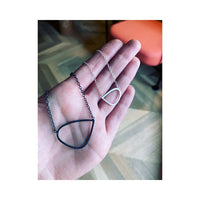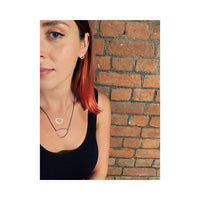 Wing Pendent in Oxidised Silver
An elegant triangular shape inspired by wings, this is a great everyday necklace. Made from sterling silver that has been oxidised.
Available in two sizes, Medium or Large
Care: For all jewellery we recommend avoiding contact with water, particularly chlorinated water or any lotions and potions that may contain harsh chemicals. When not wearing keep in a protective box to avoid any knocks or scratches.
Please Note: The finishes on plated and oxidised jewellery will wear away over time.
Dimensions
Length of chain: 18''
Medium pendent, approx:  1.8 x 2.0 cm
Large pendent, approx:  3.5 x 3.0 cm

Material
Oxidised Silver