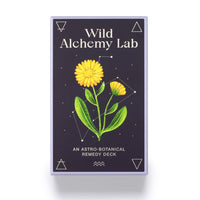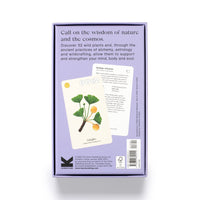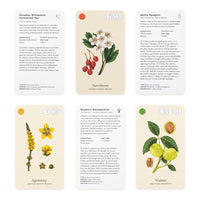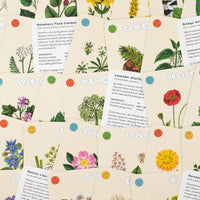 Wild Alchemy Lab: An Astro-botanical Remedy Deck of Cards
'Wild Alchemy Lab: An Astro-botanical Remedy Deck' by Jemma Foster (Author), Raxenne Maniquiz (Illustrator)
Wild Alchemy Lab is a beautiful gift for nature lovers intrigued by the mysteries of the universe. Each of the 52 cards in the deck features a wild plant, beautifully illustrated, accompanied by its astrological correspondences. The back of the card features a brief description of the plant, some context from history and mythology, and a recipe for a medicinal or culinary use of the plant. The accompanying booklet gives the history of alchemical practices and offers information about when and where to forage, some tips for preparing the plants and some other ways you can use the cards.
A DECK OF 52 WILD PLANT CARDS with remedies and recipes to soothe and treat the emotional and physical body.

BEAUTIFUL BOTANICAL ILLUSTRATIONS by Raxenne Maniquiz will help you to identify the plants, and enable you to channel their energies.

ALCHEMY MEETS ASTROLOGY - the ancient practices of alchemy, astrology and wildcrafting combined.

USE THE DECK FOR SELF-EXPLORATION with meditation ideas and oracle spreads to help you connect with nature and yourself.

DISCOVER MORE about the practice of alchemy and astrology in the accompanying booklet.
Dimensions
52 cards, and a booklet - 10.16 x 3.81 x 16.26 cm
Material
Paper