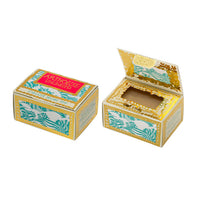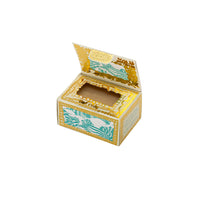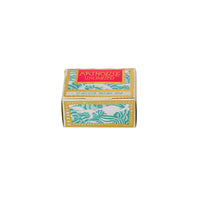 Stargazer Triple Milled Organic Soap
A collaborative majestic ocean scene enwraps this uplifting fragrance which is a freeing scent of freshness, with warm undertones leaving you sparkling like the nights sky.
This 100g paraben free soap is triple milled for a longer lasting luxurious lather. Made in the UK using essential and high quality fragranced oils, this soap is produced with carefully sourced ingredients that are both sustainable and kind to the environment. Vegan friendly, plant based ingredients. This soap features artwork created by a collaboration of ARTHOUSE Unlimited artists and is presented in a dazzling gold embellished box.
Ingredients: Sodium Palmate*, Sodium Cocoate*, Aqua, Glycerin*, Sodium Citrate, parfum (contains: Geraniol, Hexyl Cinnamal, Hydroxycitronellal, Butylphenyl Methylpropianal, Limonene, Linalool, Hydroxyisohexyl-3-cyclohexene carboxaldehyde, Methyl Heptin Carbonate, Alpha-isomethyl ionene)
* denotes Organic material
Made in the UK using 98% organic ingredients