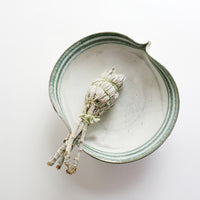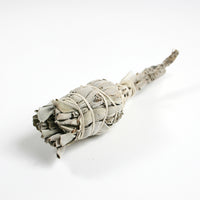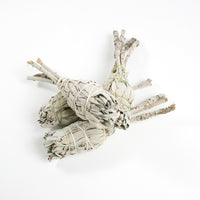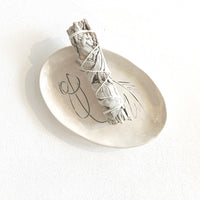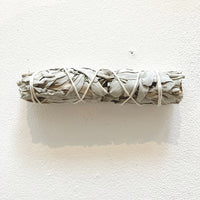 Small White Sage Smudge Stick
Small Californian white sage smudge is 
environmentally and sustainably collected in California. 
Smudging with white sage is ideal for clearing the air on an energetic level, it also has a few other practical uses. It releases negative ions that fight against things like dust and pollution. Research has also shown that it can clear 94% of bacteria (for up to 24hrs) which is why it's great to use when you've not been feeling well.

Please Note: The shape of the bundle has now changed since these photos were taken, they are now a tube shape, please see last photos. 

Dimensions
- One bundle, approx. 8 cm

Material
Californian white sage
How to enjoy your sage smudge,
Set an intention before you start, or, simply take a moment to feel centred.  

Open a few windows and doors to help any smoke and negative energy leave easily.
Light your sage stick over your flameproof bowl until a small flame has caught. While holding your sage over the bowl lightly blow on the flame until it goes out. The sage will then smoke gently like incense. Remember that it's the smoke that does the work and so the stick does not have to remain lit.   
Walk around your home clockwise, carefully using your hands to waft the smoke into all areas of your space. Include all small spaces that collect negative energy like corners, windows and behind doors. It's also good to open cupboards and wardrobes because they can also hold stagnant energy.
You may need to relight the sage stick, simply relight it over your flameproof bowl and lightly blow it out as before.  Then carry on where you left off.
There are some who believe the sage stick should be left to smoulder rather than extinguish - this should only be done if you are able to stay with it while it burns.   If not then extinguish it by lightly pressing the stick into earth, sand or into your fireproof dish. Never leave a lit sage stick unattended.
Smudging your home can be done whenever you like, there's no need to wait for a certain day or moon cycle - I use it daily but weekly or monthly is just fine too. Just like everything in life, trust your intuition and you can't go wrong. Enjoy!