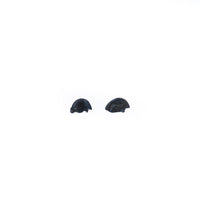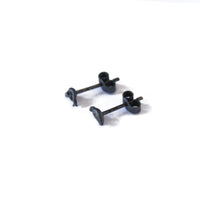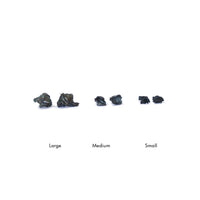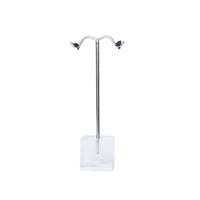 Oxidised Silver Cast Studs, Small
Oxidised Silver Cast Studs, Small made by contemporary jeweller Gemma Scully.
These earrings are cast from molten metal so each pair is completely unique so will vary to the pair pictured here.
Gemma creates jewellery from varying processes to achieve an organic cast. From dropping varying amounts of molten silver and gold into different volumes of snow, ice and water she creates wildly different all one off castings that she then designs around. This stunning jewellery range offers unique designs combined with a wonderful tactile quality.
Care: For all jewellery we recommend avoiding contact with water, particularly chlorinated water or any lotions and potions that may contain harsh chemicals. When not wearing keep in a protective box to avoid any knocks or scratches.
Please Note: The finishes on plated and oxidised jewellery will wear away over time.
Dimensions
approx, 0.3 cm x 0.3 cm
(please note that due to their organic nature these vary a lot) 
Material
Oxidised Silver