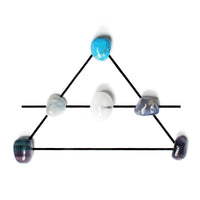 Relaxation Kit
A beautiful set of crystals to aid relaxation; by nurturing, soothing and calming body and mind. These stones are comfortably sized (between 1.5-3cm) so they can easily be placed in your pocket, at your desk, around your home or under your pillow.
Each set includes

Blue Howlite
Blue Calcite
Selenite

Blue Chalcedony

Fluorite

Amethyst
A descriptive card explaining the properties of each crystal
Instructions for use
Cotton bag to store your crystals

Crystals can be complimentary but should not be used instead of traditional medicine.  Please check with a doctor before trying anything new.