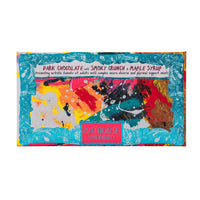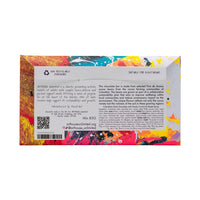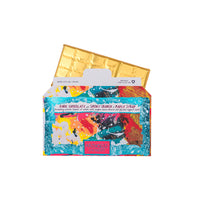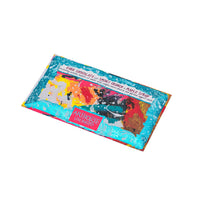 Adventurous Dark chocolate with Smoky Crunch and Maple Syrup
An adventure for the taste buds, this aromatic dark chocolate bar with smoky crunch, finishes with a sweet maple syrup taste. Made in the UK with responsibly sourced single origin cocoa, wrapped in coloured foil & encased in a recyclable envelope, this bar features artist David Bell's original Adventurous artwork presented in a dazzling turquoise frame. An ideal gift for chocoholics, art lovers & good-cause supporters everywhere!
Handcrafted in the UK by a specialist chocolatier using cocoa beans from the Dominican Republic, this chocolate is an indulgent treat for the taste buds.

This chocolate features artwork from a collaboration of Arthouse Unlimited artists.

Arthouse Unlimited is a collective of artists living with complex epilepsy and learning disabilities all of whom require varying levels of support.  The artists work alongside instructors to create artworks which are developed into designer products for sale. All artwork derives from the skills each artist brings to the enterprise and every contribution holds real value. 
Dimensions
Minimum weight 100g
7.5cm (W) x 16cm (L)

Ingredients

Ingredients: 60% cocoa solids minimum: cocoa mass, sugar, cocoa butter, SOYA lecithin, vanilla extract. Crunch (wheat flour, (calcium carbonate, iron, niacin, thiamine) palm oil, smoky flavoured seasoning (rusk (wheat flour, calcium carbonate, iron, niacin, thiamine) salt, sugar, maltodextrin, yeast powder, yeast extract powder, smoked salt, colours (beetroot red, paprika extract), barley malt flour, natural flavouring, maple syrup, smoked paprika.
Allergens: SOYA, WHEAT, BARLEY. This product is made in a factory that also handles almonds, hazelnuts, brazil nuts.

Nutrition (per 100g): energy 2312 KJ/555 kcal; fat 36g, of which saturates 21g; carbohydrate 54g, of which sugar 38g; fibre 6g; protein 7g; salt 0.14g.
7.5cm (w) x 16cm (h)
Minimum weight 85g
Wrapped in recyclable foil and encased in a reusable envelope.
Cocoa origin: Colombia* Single origin cocoa, ethically and responsibly source from family -owned chocolate manufacture.
Please store in a cool, dry place away from direct sunlight. Min 85g.
Suitable for Vegetarian, Vegan, Kosher Diets