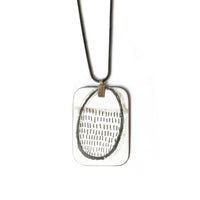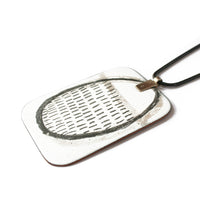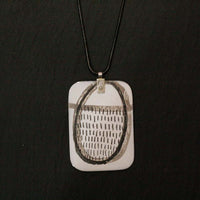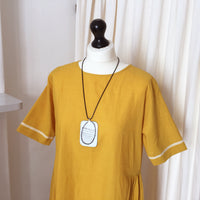 Circle and Dash Flat Copper Pendant
Circle and dash flat copper pendant on oxidised snake chain, designed by Rachel Brown using the technique of drawing on enamel. The patterns and textures are applied with a graphite pencil and an oxidising stain. Using only white enamel which if over fired white can produce subtle shades of blue and grey through to yellow. Each piece is hand made and therefore unique.
Care: For all jewellery we recommend avoiding contact with water, particularly chlorinated water or any lotions and potions that may contain harsh chemicals. When not wearing keep in a protective box to avoid any knocks or scratches.
Dimensions
Chain, 40cm
Pendant approx, 8 x 5 cm
Material
Silver, Enamel & Copper