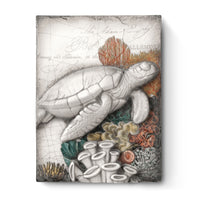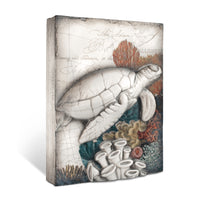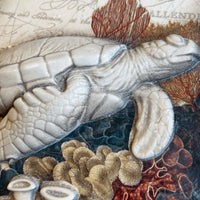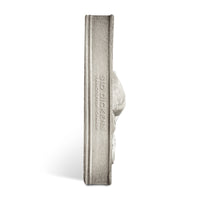 Ancient Wisdom T511 - Sid Dickens Memory Block
"In the charming ocean of life, stability and patience holds the world in balance." 
This forms part of Sid Dickens Oceanic Collection.  This range breezes into summer, bringing the freshness of salty sea air, along with the comforting nostalgia and hope for the future that comes with it.

Water as blue as sapphire is home to the most delightful, wise, and beautiful creatures. Here, playful and regal patterns intertwine and dance like schools of fish. Rich details permeate the characters in their respective settings, showcasing love, patience, and balance with the natural world. The undersea sage provides Ancient Wisdom in the form of patience and stillness despite the tumultuous ocean of life. The Seahorse strides through the valleys of the sea floor, making the world beneath the waves his ballroom. The White Tulip reminds us to forgive our transgressions, and those of others, while blooming into a new beginning during this time in the world. The Mermaid sings to us and her voice fills our hearts with the light of the very stars themselves.

The Oceanic Collection is Sid's invitation to explore the serenity, magic, and mystery found in the depths of our world's precious ecosystems.
Material
Plaster
Dimensions
6" x 8"