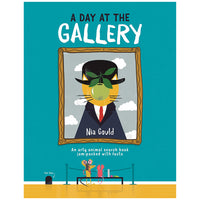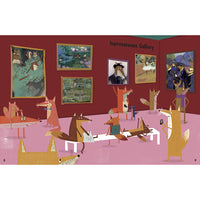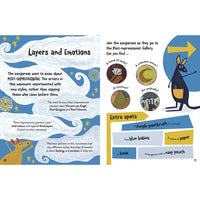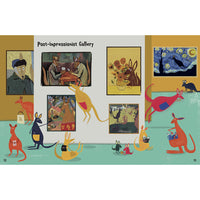 A Day at the Gallery
A Day at the Gallery: An arty animal search book jam-packed with facts
Written and Illustrated by Nia Gould 
The mice are captivated by Matisse and the cats are exploring the Surrealists' room ... what else is going on in the gallery?

This quirky and creative search-and-find book takes children, room by room, through a wonderfully illustrated gallery, where an array of animals are enjoying everything from Impressionism and Surrealism to Pop Art and Cubism. Each room is filled with strange and astonishing works of art, with things for children to spot and information that introduces artists and art movements. There's a cat in a bowler hat, a cheesy Matisse, and plenty more to capture children's imaginations as they enter the gallery for the first taste of the beautiful world of art.

For Children 6 years and up. 
Dimensions
48 pages, 21.59 x 1.02 x 27.99 cm
Material
Paper