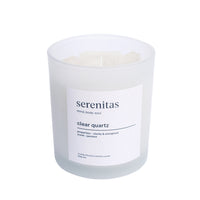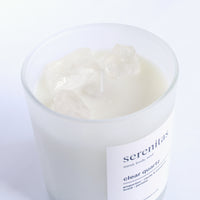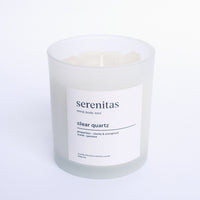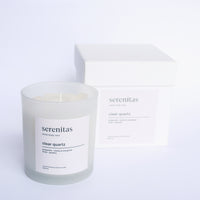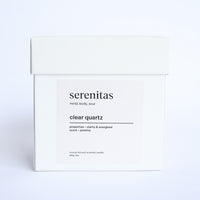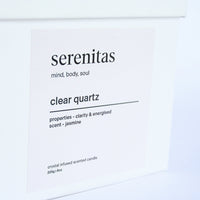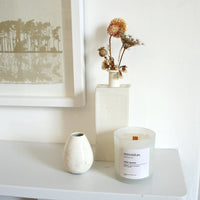 Clear Quartz - Crystal Infused Scented Candle
Clear Quartz | crystal infused scented candle
Properties – clarity & energised
Scent – jasmine 
A Clear Quartz Crystal-Infused Scented Candle, a luminous union of clarity and revitalising energy. Elevate your surroundings with the illuminating energy of Clear Quartz. Invite clarity and renewed vigour into your life with every flicker. 
Crystal:
- Clear Quartz Crystal: This candle is graced with the illuminating presence of Clear Quartz, celebrated for its ability to enhance mental clarity and promote a revitalized sense of energy.
Scent:
- Jasmine: Immerse yourself in the enchanting scent of jasmine, invoking a sense of serenity and tranquillity while revitalizing your senses.

* Important - Please Note: On first burn, allow the wax to soften and remove the crystals. The crystals should not remain in the wax while burning the candle. The wax will have been infused with the properties of the crystals but keep the crystals near by when burning to continue receiving their benefits. 

Dimensions: 
225g | 80z
40-45 hours burn time 

Material: 
- Soy Wax & Cotton Wick: Meticulously crafted with eco-friendly soy wax, it offers a pure and clean burn. The cotton wick adds a soothing ambiance, enhancing the overall experience.
- Recyclable Packaging: Our commitment to sustainability extends to the packaging, reflecting our dedication to an eco-conscious choice.
- Paraffin Free
Candle Care:
- Do not leave crystals in wax while burning.
- Never leave a burning candle unattended.
- Always burn the candle for between 3 to 4 hours each time to allow for an even melt pool but do not exceed 4 hours. 
- Do not let candles burn all the way to the very bottom, the flame should not touch the glass.
- Take care to burn candles away from draughts and sources of heat.
- Trim the wick after each use to about 0.5cm.