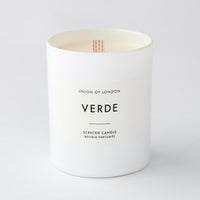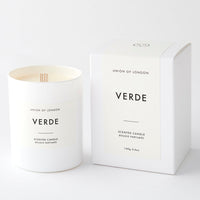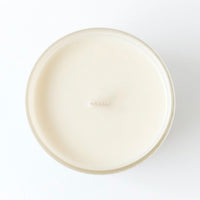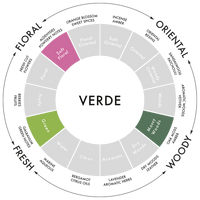 Verde Candle
An enchanting blend of soft florals accompanied by invigorating fresh green leaves. This exquisite fragrance effortlessly brings the outdoors into the comfort of your home.
Top Notes: Green Leaf, Eucalyptus
Heart Notes: Violet, Muguet
Base Notes: Cedar, Patchouli
This unique hand poured soy wax candle uses quality fragrances and essential oils for a clean burn. Our wide cotton wick creates a broad flame, generating a great scent throw and an even pool of wax.
Made in the UK.

Dimensions: Available in 2 sizes
- 160g, 5.6oz - H8.3cm x W7.0cm. - Burn Time: +25hrs
- 235g, 8.3oz - H9.3cm x W8cm - Burn Time: +35hrs
Material: Soy Wax, gloss white glass. 
Free from: Petroleum, Phthalates & Preservatives 
Candle Care
- Never leave a burning candle unattended
- Do not let candle burn all the way to the very bottom.
- Take care to burn candle away from draughts and sources of heat
- Trim the wick after each use to about 0.5cm