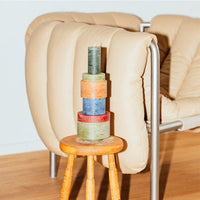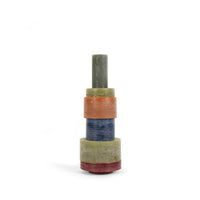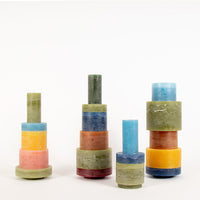 Six Piece Stacking Candle In Brown, green, Blue and Yellow.
A six piece stacking candle. This box contains one stack of four candles and two candle holders in different dimensions in green, brown, blue and yellow.
These fun stacking candles encourage creativity and playfulness allowing you to design your own candle stack or tower depending on your mood or interior .
This stack is just the beginning, you can add to this, the addition of one new colour lets you create a completely different stack.
Dimensions

module 00: 40

 

mm X 95

 

mm
holder 01: 70 mm X 30 mm
module 02: 70 mm X 60 mm
module 06: 80 mm X 60 mm
module 10: 100 mm X 60 mm
holder 09: 100 mm X 30 mm
approx 140 hour burning time 
Material

Pure Cotton Wick & paraffin wax


Candle Care
- Never leave a burning candle unattended
- Do not let candle burn all the way to the very bottom.
- Take care to burn candle away from draughts and sources of heat
- Trim the wick after each use to about 0.5cm
- For an even burn, burn between 0.5-2 hours each time.