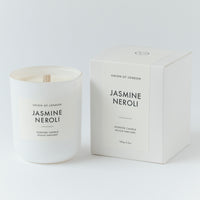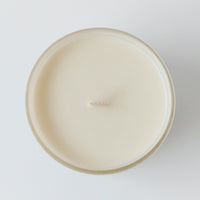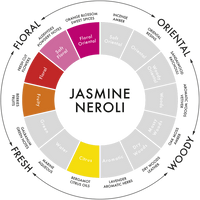 Jasmine Neroli Candle
White jasmine and neroli petals combine with ylang ylang blossoms, citrus peel, tuberose and nutmeg to create this heady, exotic, spicy and sweet scent.
Top Notes
Elderberry, Citrus Peel 
Heart Notes
Neroli Petals, Cumin, Nutmeg
Base Notes
White Jasmine, Tuberose, Ylang Ylang
This unique hand poured soy wax candle uses quality fragrances and essential oils for a clean burn. The wide cotton wick creates a broad flame, generating a great scent throw and an even pool of wax.
Made in the UK.

Dimensions: Available in 2 sizes
- 160g, 5.6oz - H8.3cm x W7.0cm. - Burn Time: +25hrs
- 235g, 8.3oz - H9.3cm x W8cm - Burn Time: +35hrs

Material: Soy Wax, gloss white glass. 
Free from: Petroleum, Phthalates & Preservatives 
Candle Care
- Never leave a burning candle unattended
- Do not let candle burn all the way to the very bottom.
- Take care to burn candle away from draughts and sources of heat
- Trim the wick after each use to about 0.5cm