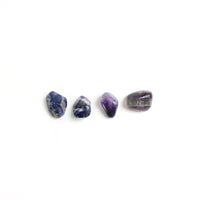 Destress Crystal Facial
The ideal ritual to destress skin and bring mental wellbeing.
Simply follow the directions within the set which instruct you to place crystals in a specific formation on cleansed skin.  Then relax for 15-20 minutes and the crystals will revitalise both skin and mind.

Each set includes
Visual map to show crystal placement
Fluorite

Amethyst

2 x Sodalite
Clear Quartz
A descriptive card explaining the properties of each crystal
Instructions for use
Cotton bag to store your crystals

Crystals can be complimentary but should not be used instead of traditional medicine.  Please check with a doctor before trying anything new.