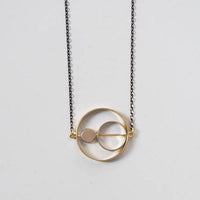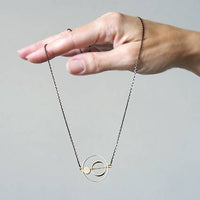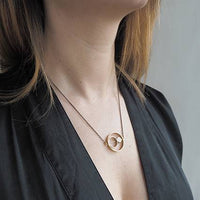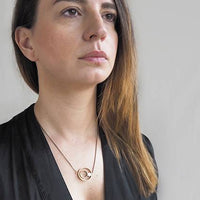 Brass Rings within Ring Necklace
This piece is made from a brass ring within a brass ring accompanied by a solid brass circular disc centred on a solid brass axis bar. The piece is hung from a black/brass chain.
A homage to the circle! The dynamic design celebrates the certainty given by mathematical geometry.
Handmade in East London
Dimensions
Outer Circle, 2.5cm wide
Chain length, 20″/50mm

Material
Brass 
(Lead and Nickel free.)
Care: For all jewellery we recommend avoiding contact with water, particularly chlorinated water or any lotions and potions that may contain harsh chemicals. When not wearing keep in a protective box to avoid any knocks or scratches.
Please Note: The finishes on plated and oxidised jewellery will wear away over time.