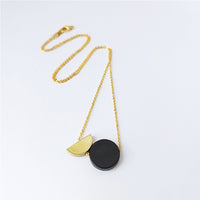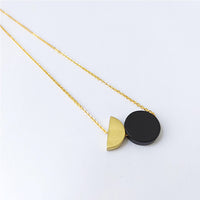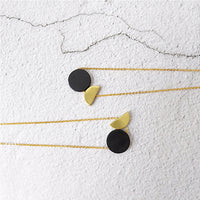 Black Disc & Semi Circle Necklace
This necklace is a gorgeous geometric combination of black solid circle and a brass semi circle. Another celebration of simplicity of shape, the chain is gold plated.
Dimensions;
Chain length 20″/50com
Brass disc 14mm – semi disc  14mm
Material;
Brass and gold plate, lead and nickel free
Care: For all jewellery we recommend avoiding contact with water, particularly chlorinated water or any lotions and potions that may contain harsh chemicals. When not wearing keep in a protective box to avoid any knocks or scratches.
Please Note: The finishes on plated and oxidised jewellery will wear away over time.