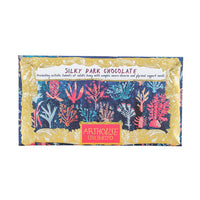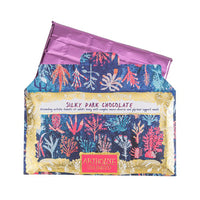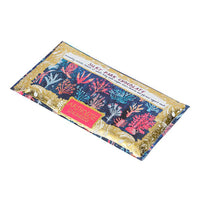 Mysterious Marvels Silky Dark Chocolate
Mysterious Marvels is another impressive group artwork in tones of blue and pinks depicting individual coral heads on a reef.
Silky smooth rich dark chocolate with a long-lasting flavour.
Handcrafted in the UK by a specialist chocolatier using cocoa beans from the Dominican Republic, this chocolate is an indulgent treat for the taste buds.

This chocolate features artwork from a collaboration of Arthouse Unlimited artists.

Arthouse Unlimited is a collective of artists living with complex epilepsy and learning disabilities all of whom require varying levels of support.  The artists work alongside instructors to create artworks which are developed into designer products for sale. All artwork derives from the skills each artist brings to the enterprise and every contribution holds real value. 
Dimensions
Minimum weight 100g
7.5cm (W) x 16cm (L)

Ingredients
60% cocoa solids minimum: cocoa mass, sugar, cocoa butter, SOYA lecithin, vanilla extract.
Allergens: SOYA
This product is made in a factory that also handles almonds, hazelnuts, brazil nuts. May contain traces of milk protein.